9 November 2020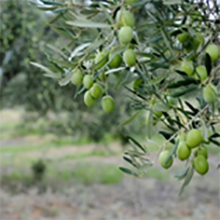 Thessaloniki, Greece – Greek researchers and clinicians investigated for the first time the effect of High Phenolic Early Harvest Extra Virgin Olive Oil (HP-EH-EVOO) versus Moderate Phenolic (MP-EVOO) and Mediterranean Diet (MeDi) as a therapeutic pharmaceutical natural compound for older adults with amnestic Mild Cognitive Impairment (aMCI). Amnestic MCI is usually a prodromal condition of Alzheimer's disease (AD) and is characterized by memory loss and inability to execute very complex Activities of Daily Living. While there is no treatment for MCI and symptomatic only treatment for AD, the global effort against cognitive disorders is focused on early detection and management of AD at the stage of aMCI.
Scientists from the Aristotle University of Thessaloniki and the Greek Association of Alzheimer's Disease and Related Disorders have succeeded in making the shift to MCI therapy via robust natural remedies that can be used in order to forestall cognitive deterioration. In an article published in the Journal of Alzheimer's Disease, the researchers conducted a randomized prospective study so as to examine the HP-EH-EVOO and MP-EVOO versus MeDi. Moreover, genetic predisposition (APOE ε4) to AD was tested and an extensive neuropsychological battery was administered at baseline and after 12 months. Each participant was randomized and assigned to one of three groups: (i) Group 1 received the HP-EH-EVOO (50 mL/day) plus MeDi; (ii) Group 2 received the MP-EVOO (50 mL/day) plus MeDi; and (iii) Group 3 received only the MeDi instructions.
Recent literature paves the way to investigate natural compounds as alternative treatments of MCI due to AD. The MeDi is not a single prescribed diet, but rather a general food-based eating pattern, which is characterized by local and cultural differences throughout the Mediterranean region. Recent studies have proposed that more adherence to MeDi improved cognitive functions, decreased the possibility to develop MCI, and lessened the risk of MCI progression to AD. A Spanish longitudinal study showed that EVOO keeps the cognitive function better than nuts. A recent study suggests that intake of EVOO might offer a protective effect and/or slow AD pathology in transgenic mice. The results of this study suggest that the long-term consumption of an EVOO-containing diet starting at early age provides a protective effect against AD and its related disorder cerebral amyloid angiopathy (CAA), while a long-term intervention with an EVOO-rich MedDiet in 285 participants with high vascular risk resulted in better cognitive functioning when compared to a control diet.
Figure 1. The Greek HP-EH-EVOO that was administered.
The MICOIL study revealed better follow-up performance in Group 1 compared to Group 2 and Group 3 in almost all cognitive domains. Moreover, Group 2 showed also significant improvement compared to Group 3 in ADAS-cog (p = 0.001) and MMSE (p = 0.05), whereas Group 3 exhibited worse or similar to baseline performance in almost all domains. In particular, Group 1 and Group 2 had better outcomes with regards to ADAS-cog (p = 0.003), Digit Span (p=0.006) and letter fluency (p = 0.003). Moreover, there was a significant difference (p = 0.001) in the presence of APOΕ ε4 between the Groups 1 and 2 vs. Group 3. Therefore, MICOIL showed that long-term intervention with HP-EH-EVOO or MP-EVOO was associated with significant improvement in cognitive function compared to MeDi, independent of the presence of APOE ε4.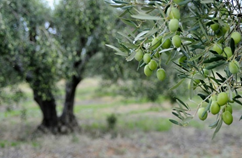 Figure 2. Chalkidiki Olive Tree
Our study revealed in all measures we used better performance of treatment group compared with control group in the second assessment after 12 months of follow-up. Until today there is no other study which has examined in such detailed manner the effects of Greek EVOO in elders with MCI as an effective solution for cognitive impairment.
NOTES FOR EDITORS:
Full study: "A Randomized Clinical Trial of Greek High Phenolic Early Harvest Extra Virgin Olive Oil in Mild Cognitive Impairment: The MICOIL Pilot Study" by M. Tsolaki, E. Lazarou, M. Kozori, N. Petridou, I. Tabakis, I. Lazarou, M. Karakota, I. Saoulidis, E. Melliou, and P. Magiatis (DOIi: 10.3233/JAD-200405) published online in the Journal of Alzheimer's Disease in advance of Volume 78, Issue 2 by IOS Press. The article is freely available online at: content.iospress.com/articles/journal-of-alzheimers-disease/jad200405.
Contact
Principal investigate: Magda Tsolaki, Aristotle University of Thessaloniki, Makedonia, Greece (tsolakim1@gmail.com or +306942918933, +302310234239).
About the Aristotle University of Thessaloniki
The Aristotle University of Thessaloniki is the largest university in Greece. It comprises 7 faculties that consist of 33 schools, 5 faculties that consist of one school each, as well as 4 independent schools. About 81,500 students study at the Aristotle University (72,140 in undergraduate programs and 8,360 in postgraduate programs). There are 2,150 faculty members: 739 professors, 435 associate professors, 634 assistant professors, and 342 lecturers. There are also 11 teaching assistants, 58 research fellows, 248 members of the Special Laboratory Teaching Personnel, as well as 15 foreign language teachers and 4 foreign instructors. Faculty members are also assisted by 213 members of the Special Technical Laboratory Personnel. The Aristotle University of Thessaloniki conducts research projects, participates in European research programs, cooperates with international institutions and organizations and attracts outstanding researchers from within Greece and abroad. The Aristotle University supports research projects in a wide variety of disciplines related to the environment (natural and built), computing, new technologies and nanotechnology, telecommunications, industrial technologies, transport, biotechnology, biomedicine and health, agriculture, forestry and fishery, education and language, history and archaeology, social studies and economics. auth.gr
About the Greek Association of Alzheimer's disease and Related Disorders
The Greek Association of Alzheimer's Disease and Related Disorders is a non-profit organization that was founded in 1995 by relatives of patients suffering from Alzheimer's disease, doctors of all specialties (mainly neurologists and psychiatrists) and other experts (such as psychologists, social workers, physiotherapists, etc.) who deal with the problems caused by this disease and other types of dementia. The Association operates two day centers in Thessaloniki with more than 130.000 visits per year and has over 6.000 members. It is a member of Alzheimer Europe and Alzheimer's disease International and has successfully participated in various national and European research projects producing new scientific knowledge and innovative interventions for cognitive disorders. The aim of the Association is to offer information and advice concerning the care of patients with cognitive disorders and provide services for patients and their families. It also strives to offer help and support to caregivers in order to reduce the social, economic and emotional burden deriving from the long term care of people suffering from dementia. Lastly, the Association attempts to publicize the social needs of the affected population and inform the public on issues related to dementia and cognitive disorders in general. alzheimer-hellas.gr
About the Yanni's Olive Grove
Yanni's Olive Grove is a Greek family company. Through ideal production conditions following the regulations of the IOC and the collaboration with "Krinos Olive Center" of the American Farm School, our main objective is to produce EVOOs of the highest quality standards. Our high phenolic EVOOs were honored with 50 international awards in the last five years. You may watch our production process: complimentary extra virgin olive oil video. Yanni's Finest EVOO is a multi-award winning early harvest extra virgin olive oil produced only from Halkidiki green olives. It was born from Yanni's desire to offer the absolute finest extra virgin olive oil possible and is made with olives harvested from groves of some 6,000 olive trees located by the sea, in Nea Potidaia in the Chalkidiki peninsula in northern Greece. The olives are harvested by hand while still green and unripe and then pressed within hours of being picked at temperatures below 25 °C. The result is a perfect and very fresh EVOO. yannisolivegrove.gr
About the Journal of Alzheimer's Disease
Now in its 23rd year of publication, the Journal of Alzheimer's Disease (JAD) is an international multidisciplinary journal to facilitate progress in understanding the etiology, pathogenesis, epidemiology, genetics, behavior, treatment, and psychology of Alzheimer's disease. The journal publishes research reports, reviews, short communications, book reviews, and letters-to-the-editor. Groundbreaking research that has appeared in the journal includes novel therapeutic targets, mechanisms of disease, and clinical trial outcomes. JAD has a Journal Impact Factor of 3.909 according to Journal Citation Reports (source: Clarivate, 2020). JAD is published by IOS Press. j-alz.com