1 September 2018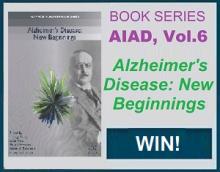 Every year in September across the globe, efforts are made to increase awareness of AD and dementia – and the ongoing research into the disease – during World Alzheimer's Month. Join our commmunity in spreading awareness of the impact JAD has, and what our journal achieves in terms of advancing knowledge in the field, and you could be enter a draw to win a copy of our latest book!
JAD, publishing more research papers per year on AD than any other journal, is advancing knowledge in the field. It continues to push for a diversity of approaches to AD, and its Editor-in-Chief George Perry is the key driver in this. He comments: "As well as therapeutic targets that fall well within the bounds of the amyloid hypothesis, some researchers are calling for an exploration of ideas that are beyond the mainstream." (Read more about what Dr Perry has to say on that topic here.) We are calling on the JAD community to spread awareness of JAD this month, leading up to World Alzheimer's Day on September 21.
Share & Win!
Spread the word about JAD by any of the means outlined below and you will be entered for a chance to win a copy of the new book Alzheimers Disease: New Beginnings. This book looks to the future and the journey that lies ahead for AD research. It highlights the latest insights in AD research and, specifically, in areas in which major advances have been made and that are expected to impact future research approaches. You can read more about the book here.
How to Enter
 Our competition will be shared on JAD's Facebook and Twitter. To enter:
 * Go to JAD's timeline on Facebook and "like" the competition post from September 3; or
 * Retweet JAD's message about it from the journal's Twitter stream; or 
 * Sign up to the newsletter here; or
 * Share the latest newsletter (see here) with your colleagues and encourage them to sign up (and let us know by clicking the link below)
Deadline: September 21
All entries received before midnight on September 21 (EST) will be entered into the drawing and one winner will be selected by September 30.