2 July 2019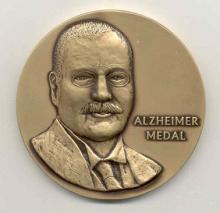 This award recognizes outstanding contributions to the advancement of AD research published in the Journal of Alzheimer's Disease
Amsterdam, NL – The Journal of Alzheimer's Disease (JAD) is pleased to announce that Yan-Jiang Wang, MD, PhD, and Xian-Le Bu, MD, PhD, both of Daping Hospital, Third Military Medical University, Chongqing, China, are joint recipients of the 2019 Alzheimer Award.
The award is presented by the journal in recognition of Dr. Wang, Dr. Bu, and colleagues' groundbreaking article that presents clear evidence that gut microbiota composition is altered in patients with Alzheimer's disease (AD). This suggests that gut microbiota participate in the disease pathogenesis, and modulation of gut microbiota might be a potential therapeutic strategy for AD.
The 2019 winning paper is "Gut Microbiota is Altered in Patients with Alzheimer's Disease" (Zhuang et al., J Alzheimers Dis 63, 1337–1346, 2018). It is freely available to everyone to read, download, and share.
Each year, JAD's Associate Editors select the article from the previous year's volumes that has had the most significant impact on the field. The awardees will be presented with the Alzheimer Medal, a 3-inch bronze medal with the likeness of Alois Alzheimer, and a cash prize of $7,500 on July 15th at the JAD Editorial Board meeting at AAIC 2019 in Los Angeles, CA. This year's award is proudly sponsored by Memory Health, part of the Avantius Group.
Prior research has shown that alterations in the gut microbiota composition are linked to a number of neuropsychiatric disorders including depression, amyotrophic lateral sclerosis and Parkinson's disease, however, it remained unclear whether gut microbiota participate in the pathogenesis of AD. Research performed by Dr. Zhen-Qian Zhuang and colleagues in Professor Wang's lab in Daping Hospital, Third Military Medical University, further demonstrated that gut microbes may influence brain function and behavior via the microbiota-gut–brain axis, and specifically in AD. In this study researchers collected feces from patients with AD and found that gut microbiota composition in these patients was different than in cognitively normal controls. Several bacterial taxa, such as Actinobacteria, Bacteroidales, Ruminococcaceae, Selenomonadales and Lachnoclostridium, contributed to the differences.
"Modulation of gut microbiota through personalized diet or beneficial microbiota intervention may be a potential strategy for the prevention treatment of AD," commented Dr. Wang and Dr. Bu. "Our study also suggests that AD might not be a disease of the brain itself, and brain health is closely associated with our whole body. We need to understand the disease pathogenesis and develop therapies systemically for AD and other neurodegenerative diseases."
2019 Alzheimer Award Recipients
Yan-Jiang Wang, MD, PhD, is professor of neurology, Department of Neurology in Daping Hospital, Third Military Medical University, Chongqing, China. He is the vice chair of the Academy of Cognitive Disorders of China and director of Vas-Cog Asia. He completed his MD training at Third Military Medical University in China and PhD training at Flinders University in Australia. His research focuses on the diagnostic biomarkers and novel therapies for AD. His group found that amyloid-beta metabolism in the brain is dynamically connected with that in the periphery, peripheral-derived amyloid-beta participates in the pathogenesis of AD, and clearance of amyloid-beta and tau from blood can reduce amyloid-beta and pathological tau accumulation in the brain. Based on these findings, Dr. Wang and colleagues proposed the systemic view of AD to understand the disease pathogenesis and develop therapeutics from systemic approaches (Wang J, Gu BJ, Masters CL, Wang YJ. Nat Rev Neurol, 13, 612–623, 2017).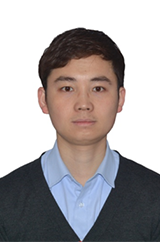 Xian-Le Bu, MD, PhD, is a neurologist at Daping Hospital, Third Military Medical University, Chongqing, China, where he earned his MD and PhD degrees (2012-2016). Dr. Bu's research focus is on the association of systemic disease and AD, and he and colleagues discovered that: numerous systemic diseases are associated with AD risk and peripheral amyloid-beta metabolism, suggesting that the disorder of peripheral amyloid-beta metabolism may be involved in AD pathogenesis; blood-derived amyloid-beta can enter brain and induce AD-type pathologies, providing novel insight into AD pathogenesis from a systemic view; and the substantial contribution of the peripheral system to the clearance of brain amyloid-beta, providing proof-of-concept evidence that development of drugs and therapies for AD could be focused on peripheral rather than central amyloid-beta clearance.
 "We would like to gratefully acknowledge our co-authors and co-investigators, whose contributions have been essential to the success of this research. We would also like to thank the JAD Editorial Board for selecting our paper from among more than eight hundred excellent articles published by the journal in 2018," stated Dr. Wang and Dr. Bu.
"The Associate Editors and I are delighted to formally recognize Dr. Wang and Dr. Bu for truly innovative work through this award, supported this year by Memory Health. Research in the microbiome has the potential to contribute to effective prevention, diagnosis and personalized treatment of AD patients," commented George Perry, PhD, Editor-in-Chief, Journal of Alzheimer's Disease, and Chief Scientist of the Brain Health Consortium at the University of Texas at San Antonio.
###
NOTES FOR EDITORS
Winning paper (openly available): Zhen-Qian Zhuang, Lin-Lin Shen, Wei-Wei Li, Xue Fu, Fan Zeng, Li Gui , Yang Lü, Min Cai, Chi Zhu, Yin-Ling Tan, Peng Zheng , Hui-Yun Li, Jie Zhu, Hua-Dong Zhou, Xian-Le Bu, and Yan-Jiang Wang, "Gut Microbiota is Altered in Patients with Alzheimer's Disease" J Alzheimers Dis, 63, 1337–1346, 2018 (DOI 10.3233/JAD-180176).
Click here to view information about previous Alzheimer Award winners.
Contacts:
George Perry, PhD
Editor-in-Chief, Journal of Alzheimer's Disease
Chief Scientist of the Brain Health Consortium, The University of Texas at San Antonio
+1 210 458 4450
george.perry@utsa.edu
Carmel McNamara, PhD
IOS Press
+31 20 688 3355
c.mcnamara@iospress.nl
About the Journal of Alzheimer's Disease
Now in its 22nd year of publication, the Journal of Alzheimer's Disease (JAD) is an international multidisciplinary journal to facilitate progress in understanding the etiology, pathogenesis, epidemiology, genetics, behavior, treatment, and psychology of Alzheimer's disease. The journal publishes research reports, reviews, short communications, book reviews, and letters-to-the-editor. Groundbreaking research that has appeared in the journal includes novel therapeutic targets, mechanisms of disease, and clinical trial outcomes. JAD has a 2018 Journal Impact Factor of 3.517 according to Journal Citation Reports (Web of Science Group, 2019). JAD is published by IOS Press. j-alz.com
About IOS Press
IOS Press is headquartered in Amsterdam with satellite offices in the USA, Germany, India and China and serves the information needs of scientific and medical communities worldwide. IOS Press now publishes more than 80 international peer-reviewed journals and about 75 book titles each year on subjects ranging from computer science, artificial intelligence, and engineering to medicine, neuroscience, and cancer research. iospress.com
About Memory Health
Memory Health, an Avantius Group company, distributes a nutritional supplement to improve memory and cognitive function, to support brain health and to promote overall healthy aging. Developed by a group of leading European scientists studying the critical role of nutrition in brain health, the formula was recently used in a groundbreaking study for dementia and Alzheimer's research. memoryhealth.com