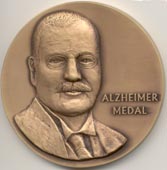 Each year, the Associate Editors of the journal select the best article from the previous year's volumes. The awardee is presented the Alzheimer Medal, a 3" bronze medal with the likeness of Alois Alzheimer, and a cash prize of $7500. This yearly award is made possible by support from the Alzheimer Research & Prevention Foundation and IOS Press.
---
2015 Awardee
Hartmuth Kolb, PhD
Dr. Hartmuth Kolb received his PhD in Organic Chemistry in 1991 at Imperial College of Science, Technology and Medicine, London, UK. Following postdoctoral work with K. Barry Sharpless (2001 Chemistry Nobel Laureate), he joined Ciba-Geigy in 1993. In 1997, Dr. Kolb became the Head of Chemistry at Coelacanth Corporation. In this role, he and Dr. Sharpless developed the Click Chemistry approach to drug discovery. In 2002, he joined The Scripps Research Institute as an Associate Professor, focusing on in situ Click Chemistry. From 2004 to 2013, he was the head of the Siemens Biomarker Research group, where he and his team developed novel oncology and neurodegenerative disease PET tracers, key highlights being the PHF-Tau tracer, [18F]-T807 and [18F]-T808. Dr. Kolb joined Johnson & Johnson in January 2014 as the Head of Neuroscience Biomarkers. He is an author on over 75 peer-reviewed publications and review articles.
Importance of Published Article
Hyperphosphorylated tau protein is the main component of NFTs and neuropil threads, which are pathological hallmarks of AD and other neurodegenerative diseases. NFT spread increases with disease progression and the density correlates with dementia severity. Up until recently, most human studies related to NFTs were performed with postmortem tissue. Kolb and co-investigators have developed positron emission tomography (PET) imaging tracers [18F]-T807 and [18F]-T808, which show promise for the in vivo evaluation of NFT pathology.
The clinical study (J Alzheimers Dis 38, 171-184, 2014) showed that healthy subjects displayed little tracer retention in the cortical gray matter, while two AD subjects showed a distinct pattern of radiotracer retention, consistent with the expected NFT deposit pattern described by Braak et al. Interestingly, one subject with severe AD had a higher [18F]-T808 retention in the occipital lobe than all the other subjects. Clinically, this subject had vision loss without eye structural abnormalities, suggesting a central nervous system process. Thus, tau PET imaging holds great promise for the in vivo determination of the severity of the disease and for monitoring disease progression.