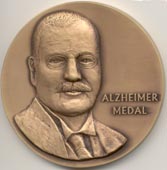 Each year, the Associate Editors of the journal select the best article from the previous year's volumes.  The awardee is presented the Alzheimer Medal, a 3" bronze medal with the likeness of Alois Alzheimer.
This yearly award is made possible by support from IOS Press
---
2014 Awardee
Bob Olsson, Ph.D.
Bob Olsson, PhD, received his degree in Endocrinology from the University of Gothenburg, Sweden in 2001. After a 16-month postdoctoral fellowship in Obesity and Diabetes research and a second one in Hematology research for 21 months, both at the University of Gothenburg, Dr. Olsson got a four year Junior Research position from the Swedish Research council followed by a Senior Research position from the University of Gothenburg. He is now tenured as an Assistant Professor and works with cerebrospinal fluid markers for neurodegenerative and autoimmune diseases together with Professors Kaj Blennow and Henrik Zetterberg in the Department of Neurochemistry at the University of Gothenburg.
Importance of Published Article
Microglia has been implicated in Alzheimer's disease (AD) and in the paper "Microglial markers are elevated in the prodromal phase of Alzheimer's disease and vascular dementia" (J Alzheimers Dis 33, 45-53, 2013). Olsson et al. show that the microglial marker YKL-40 is increased in cerebrospinal fluid (CSF) from AD compared with healthy controls. Both YKL-40 and a second microglial marker called sCD14 were elevated in CSF from mild cognitive impairment (MCI) patients that progressed to vascular dementia. In addition, YKL-40 was elevated in CSF from MCI patients with a CSF profile indicative of AD, i.e., elevated levels of T-tau and decreased levels of Aβ42 compared with stable MCI patients with a normal profile. Thus, microglial activation is an early event in both AD and vascular dementia. Furthermore, both microglial markers were extremely stable in patients over 6-month period indicating that they can successfully be used in clinical trials aimed at lowering microglial activation.