15 July 2019
Amsterdam and Boston – The Journal of Alzheimer's Disease (JAD) is pleased to announce a new partnership with the Advanced Continuing Education Association (ACEA) to provide a new series of fully accredited continuing medical education (CME) journal articles. The program, accredited under the ACCME and open to US and Canadian physicians, launches today with 10 landmark articles published in JAD, each with a corresponding CME post-test providing 1.0 AMA PRA Category 1 Credit™.
"We are extremely excited to add CME-accredited content as a service to the Alzheimer's disease (AD) community. Initially, we are featuring 10 of the most recent significant and popular articles published in JAD. These articles have been carefully chosen so that medical professionals with an interest in AD participating in this program can translate clinically relevant, evidence-based diagnostic and therapeutic findings into clinical practice, improving patient care and outcomes," commented George Perry, PhD, Editor-in-Chief, Journal of Alzheimer's Disease, and Chief Scientist of the Brain Health Consortium at the University of Texas at San Antonio.
"ACEA is very pleased to bring the new innovation and research that JAD publishes about consistently to practicing clinicians through a new CME offering. This is exactly the sort of content that physicians need in order to advance the practice of medicine and accelerate further research," ACEA's Head of Strategic Support, Kyle Kahveci, said.
The catalog of currently available CME articles covers a broad range of important topics in AD and is posted on the JAD website at j-alz.com/cme-credits. New articles will be added to the program on an ongoing basis; all of these articles are freely available and thereby accessible by both journal subscribers and non-subscribers. Readers can choose to invest a small fee to gain CME credit after reading an article. Participants who opt to join the ACEA community can receive additional support and access to improve their CME experience at no cost.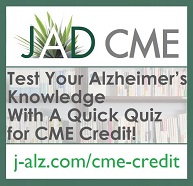 Contacts:
Carmel McNamara, PhD
IOS Press
+31 20 688 3355
c.mcnamara@iospress.nl
ACEA Press Relations Department
press@email.aceaglobal.com
NOTES FOR EDITORS
For more information to go j-alz.com/cme-credits.
About the Journal of Alzheimer's Disease
Now in its 22nd year of publication, the Journal of Alzheimer's Disease (JAD) is an international multidisciplinary journal to facilitate progress in understanding the etiology, pathogenesis, epidemiology, genetics, behavior, treatment, and psychology of Alzheimer's disease. The journal publishes research reports, reviews, short communications, book reviews, and letters-to-the-editor. Groundbreaking research that has appeared in the journal includes novel therapeutic targets, mechanisms of disease, and clinical trial outcomes. JAD has a 2018 Journal Impact Factor of 3.517 according to Journal Citation Reports (Web of Science Group, 2019). JAD is published by IOS Press. j-alz.com
About IOS Press
IOS Press is headquartered in Amsterdam with satellite offices in the USA, Germany, India and China and serves the information needs of scientific and medical communities worldwide. IOS Press now publishes more than 80 international peer-reviewed journals and about 75 book titles each year on subjects ranging from computer science, artificial intelligence, and engineering to medicine, neuroscience, and cancer research. iospress.com
About the Advanced Continuing Education Association
The Advanced Continuing Education Association (ACEA)'s mission is to improve the continuing education (CE/CME) experience for individual professionals, associations, and institutions. Partnerships with a wide variety of content providers allow for licensed professionals to obtain access to exclusive resources for meeting and tracking their continuing education requirements. The ACEA enables partners to avoid administrative burden and improve operational efficiencies with cutting-edge tools like the CE App, which automatically tracks and centralizes CE/CME in one place across all providers. More information about ACEA can be found at aceaglobal.com.
---
Source URL: https://www.j-alz.com/content/journal-alzheimer%E2%80%99s-disease-partners-advanced-continuing-education-association-launch-new