CME Credits
JAD CME Now Available!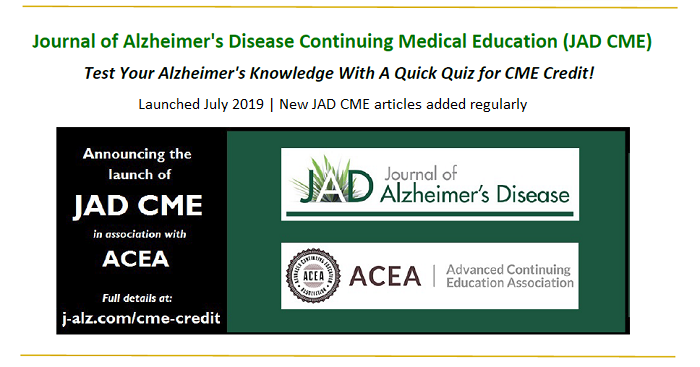 JAD is partnering with the Advanced Continuing Education Association (ACEA) to provide a series of fully accredited continuing medical education (CME) journal articles. The JAD CME program, accredited by the the Accreditation Council for Continuing Medical Education (ACCME) and open to US and Canadian physicians, launches with 10 landmark articles that have been published in JAD, each with a corresponding CME post-test providing 1.0 AMA PRA Category I Credit™.
What is CME?
In North America, CME credits are given when health professionals complete educational activities which serve to maintain, develop, or increase the knowledge, skills, and professional performance and relationships that a physician uses to provide services for patients, the public, or the profession. CME credits are important to physicians because some states require a specified number of credits annually to maintain medical licenses, and because most hospitals require a specified number of credits for their physicians to remain credentialed to see patients. CME credits are authorized by ACCME.
How does JAD CME work?
The catalog of currently available JAD CME articles is accessible on our content website by clicking on the links in the list below. Articles are are all open access and cover a broad range of important topics in AD. Articles will be added on an ongoing basis.
Follow the link on the cover page of each article to take the associated post-test. Readers can choose to invest a small fee to gain CME credit after reading an article.
Read the press release issued on the launch of JAD CME here. Find out more about ACEA at aceaglobal.com.
____________________________________
Available JAD CME Articles