17 September 2020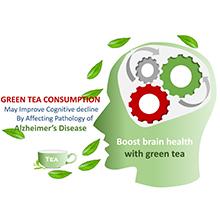 In a breakthrough study, researchers found evidence that older adults who regularly consumed green tea more than three times a week bore a lower burden of brain tau pathology even during the cognitively intact stage. As such, green tea for Alzheimer's disease might lower the risk of developing cognitive decline.
Shanghai, China – A team from the Qingdao University and Fudan University of China recruits more than 700 older adults aged 40 years or older, investigates their drinking tea habits, and assesses their cognitive function and especially alterations of aging brain pathology, i.e., Alzheimer's disease (AD).
How about the findings? Their team has revealed that green tea consumption may fend off the detrimental effects of cerebrospinal fluid (CSF) tau pathology, a core alteration of AD pathology, even in cognitively intact individuals. And, more impressively, individuals aged 65 years or younger and males probably benefit more from such a modifiable lifestyle factor. Specifically, green tea for lowing risk of tau-related neurodegenerative disease might be an affordable and accessible manner. It is good for your brain.
Green Tea for Prevention of Alzheimer's Disease Looks Promising
Although well-established research has uncovered a great deal about AD, much is yet to be focused on about how to prevent or slow the disease, and how the genetic, environmental, and lifestyle factors are correlated to AD biological changes.
The alterations of cerebrospinal fluid (CSF) core biomarkers of AD, such as beta-amyloid and tau proteins, have been deemed to reflect underlying pathologic damage of the brain, which is essential to identify individuals in preclinical and mild cognitive impairment (MCI) stages of AD.
"Few relevant population-based studies investigated the exact mechanism underlying the associations between tea consumption and the pathogenesis of AD, especially targeting the early cognitively unimpaired stage of AD," said Professor Jin-Tai Yu, who is from the Fudan University, Director of Memory Disorders Division at the Department of Neurology, Huashan Hospital. "But our team has designed and investigated in a large population, and indeed, as expected, the links with CSF core AD biomarkers further corroborated the favorable effect of green tea on the mitigation of AD risk."
"These findings are interesting and encouraging. The constituents of green tea may ameliorate abnormal tau metabolism in brain at early stage of AD and are promising targets in interventions and drug therapies," said Professor Jin-Tai Yu. The results were published online in the Journal of Alzheimer's Disease on September 1, 2020.
About the CABLE Study
The Chinese Alzheimer's Biomarker and Lifestyle (CABLE) study is an ongoing large-scale cohort study and aims to identify genetic, environmental, and lifestyle risk factors and biomarkers of AD in Chinese Han population. This database collects data from participants aged between 40 to 90 years and consists of cognitively intact older adults and individuals with MCI or AD.
All participants in this study underwent clinical and intact performance on neuropsychological assessment, biochemical testing, imaging, as well as blood and CSF sample collection. Demographic information, AD risk factor profile, and medical history were also collected by comprehensive questionnaires.
"After this, each participant receives a consensus diagnosis by the professional medical doctors through neuropsychological testing, combined with CSF biomarkers and brain imaging examinations in compliance with the National Institute on Aging–Alzheimer's Association (NIA-AA) workgroup diagnostic criteria," said Professor Jin-Tai Yu.
How Green Tea Affects the Brain
Several studies show that green tea has the potential to protect brain cells, improves memory of AD, and especially delays the progression of cognitive decline.
Given the habitual consumption of green tea in Chinese social activities and its more favorable effects on cognition, this CABLE study specially clarified the correlations of green tea consumption (instead of black and oolong tea) with AD pathology using a validated self-reported questionnaire.
The researchers believe the observations for the reduced CSF tau pathology in individuals who regularly drink green tea may be down to the abundant catechins in tea. "We have concentrated on these components of green tea," said Professor Lan Tan, the primary co-investigator of this work. "Green tea catechins can invoke extensive cellular mechanisms related to antioxidants, and display potent activities of neuroprotection and neurorescue."
Well-characterized studies have suggested the anti-aging and neuroprotective effects of green tea due to high levels of antioxidants. The increased brain ROS induces mitochondrial dysfunction and apoptosis and causes neurodegenerative diseases. However, tea polyphenols were revealed to scavenge ROS and RNS and induce antioxidant enzymes to bind and chelate excess metals.
Previous evidence has come to consistent conclusions. (–)-Epigallocatechin 3-gallate (EGCG), the main polyphenolic constituent of green tea, could inhibit the aggregation of toxic tau oligomers, even at substoichiometric concentrations. Meanwhile, L-theanine, which was originally isolated from the green tea, could inhibit the activation of glycogen synthase kinase-3β to reduce tau aggregation.
Next Steps
While studies of the effects of green tea on aging brain look promising, there is a lot of work to be done before it can actually be used as a treatment method for AD patients. The potential next stage of research for the team is to perform quantitative analyses based on a regular record about daily intake of tea using the following-up database and study the differences between the tea leaves, tea bags, etc. Such prospective studies will constitute convincing findings on causal relationships with cognitive decline and other AD phenotypes. In addition, Dr. Yu and his team also hope to distinguish the effects of tea types and the diverse constituent of green tea, such as EGCG and L-theanine, on AD biological changes to complement existing understandings about underlying mechanisms.
Caption: An ongoing large-scale cohort study, led by Professor Jin-Tai Yu from the Fudan University and Lan Tan from Qingdao University, found that older adults who regularly consumed green tea more than three times a week bore a lower burden of Alzheimer's disease tau pathology even during cognitively intact stage.
###
NOTES FOR EDITORS
Full study: "Associations of Green Tea Consumption and Cerebrospinal Fluid Biomarkers of Alzheimer's Disease Pathology in Cognitively Intact Older Adults: The CABLE Study" by YH Ma, JH Wu, W Xu, XN Shen, HF Wang, XH Hou, XP Cao, YL Bi, Q Dong, L Feng , L Tan, and JT Yu (DOI: 10.3233/JAD-200410) published in Journal of Alzheimer's Disease, Volume 77, Issue 1 by IOS Press. The article is online at: content.iospress.com/articles/journal-of-alzheimers-disease/jad200410.
Contact
Jin-Tai Yu, MD, PhD
Fudan University, Huashan Hospital, Shanghai, China
Email: jintai_yu@fudan.edu.cn or yu-jintai@163.com
Tel: +86 21 52888160
About the Journal of Alzheimer's Disease
Now in its 23rd year of publication, the Journal of Alzheimer's Disease (JAD) is an international multidisciplinary journal to facilitate progress in understanding the etiology, pathogenesis, epidemiology, genetics, behavior, treatment, and psychology of Alzheimer's disease. The journal publishes research reports, reviews, short communications, book reviews, and letters-to-the-editor. Groundbreaking research that has appeared in the journal includes novel therapeutic targets, mechanisms of disease, and clinical trial outcomes. JAD has a 2019 Journal Impact Factor of 3.909 according to Journal Citation Reports (Source: Clarivate, 2020). JAD is published by IOS Press. j-alz.com
About IOS Press
IOS Press is headquartered in Amsterdam with satellite offices in the USA, Germany, India and China and serves the information needs of scientific and medical communities worldwide. IOS Press now publishes more than 80 international peer-reviewed journals and about 75 book titles each year on subjects ranging from computer science, artificial intelligence, and engineering to medicine, neuroscience, and cancer research. iospress.com