19 May 2017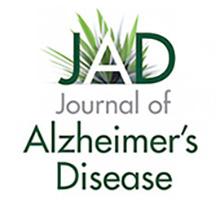 Neuroimaging shows increased blood flow in regions of the brain associated with memory and learning for people with higher omega-3 levels, according to a new report in the Journal of Alzheimer's Disease
Amsterdam, NL – The incidence of Alzheimer's disease (AD) is expected to triple in the coming decades and no cure has been found. Recently, interest in dietary approaches for prevention of cognitive decline has increased. In particular, the omega-3 fatty acids have shown anti-amyloid, anti-tau and anti-inflammatory actions in the brains of animals. In a new article published in the Journal of Alzheimer's Disease, researchers have found that for patients with high omega-3 levels, blood flow in specific areas of the brain is increased.
"This study is a major advance in demonstrating the value of nutritional intervention for brain health by using the latest brain imaging," commented George Perry, PhD, Dean and Professor of Biology, The University of Texas at San Antonio, and Editor-in-Chief of the Journal of Alzheimer's Disease.
Single photon emission computed tomography, or SPECT, can measure blood perfusion in the brain. Images acquired from subjects performing various cognitive tasks will show higher blood flow in specific brain regions. When these images were compared to the Omega-3 Index, a measure of the blood concentration of two omega-3 fatty acids, eicosapentaenoic acid (EPA) and docosahexaenoic acid (DHA), investigators found a statistically significant correlation between higher blood flow and higher Omega-3 Index. In addition, they evaluated the neuropsychological functions of the subjects and found that omega-3 levels also correlated with various psychological feelings using a standardized test battery (WebNeuro).

Caption: Example of the Omega-3 Index, the method utilized in this study for measuring omega-3 fatty acid levels in red blood cell membranes in the study. Credit: William S. Harris, PhD
This study drew from a random sample of 166 participants from a psychiatric referral clinic for which Omega-3 Index results were available. The participants were categorized into two groups of higher EPA+DHA concentrations (>50th percentile) and lower concentrations (<50th percentile). Quantitative brain SPECT was conducted on 128 regions of their brains and each participant completed computerized testing of their neurocognitive status.
Results indicated statistically significant relationships between the Omega-3 index, regional perfusion on brain SPECT in areas involved with memory, and neurocognitive testing.
Overall, the study showed positive relationships between omega-3 EPA+DHA status, brain perfusion, and cognition. Lead author Daniel G. Amen, MD, of the Amen Clinics Inc., Costa Mesa, CA, adds, "This is very important research because it shows a correlation between lower omega-3 fatty acid levels and reduced brain blood flow to regions important for learning, memory, depression and dementia."
Co-author William S. Harris, PhD, University of South Dakota School of Medicine. Vermillion, SD, lends this perspective, "Although we have considerable evidence that omega-3 levels are associated with better cardiovascular health, the role of the 'fish oil' fatty acids in mental health and brain physiology is just beginning to be explored. This study opens the door to the possibility that relatively simple dietary changes could favorably impact cognitive function."
# # #
Contacts:
George Perry, PhD
Editor-in-Chief, Journal of Alzheimer's Disease
Dean and Professor of Biology, The University of Texas at San Antonio
+1 210 458 4450
george.perry@utsa.edu
Diana Murray
IOS Press
+1 718-640-5678
d.murray@iospress.com
www.j-alz.com
NOTES FOR EDITORS
"Quantitative Erythrocyte Omega-3 EPA Plus DHA Levels Are Related to Higher Regional Cerebral Blood Flow on Brain SPECT" by Daniel G. Amen, William S. Harris, Parris M. Kidd, Somayeh Meysami, and Cyrus A. Raji (DOI: 10.3233/JAD-170281), is published online in advance of the Journal of Alzheimer's Disease, Volume 58, Issue 4 (June 2017) by IOS Press.
Full text of the paper is available to credentialed journalists upon request; contact Diana Murray at +1 718-640-5678 or d.murray@iospress.com. Journalists who wish to reach the authors for comment should contact Daniel G Amen, MD, at docamen@amenclinics.com.
ABOUT THE JOURNAL OF ALZHEIMER'S DISEASE
The Journal of Alzheimer's Disease (http://www.j-alz.com) is an international multidisciplinary journal to facilitate progress in understanding the etiology, pathogenesis, epidemiology, genetics, behavior, treatment and psychology of Alzheimer's disease. The journal publishes research reports, reviews, short communications, book reviews, and letters-to-the-editor. Groundbreaking research that has appeared in the journal includes novel therapeutic targets, mechanisms of disease and clinical trial outcomes. The Journal of Alzheimer's Disease has an Impact Factor of 3.920 according to Thomson Reuters' 2016 Journal Citation Reports®.
ABOUT IOS PRESS
Celebrating its 30th anniversary, IOS Press (www.iospress.com) is headquartered in Amsterdam with satellite offices in the USA, Germany, India and China and serves the information needs of scientific and medical communities worldwide. IOS Press now publishes over 100 international journals and about 75 book titles each year on subjects ranging from computer sciences and mathematics to medicine and the natural sciences.