16 July 2018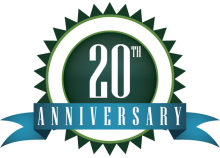 In March 2018, JAD begain its celebration of 20 years with the publication of an open access special anniversary issue that features 35 review articles covering 20 years of Alzheimer's disease (AD) research.
JAD's 20th celebration continues, with not one but two new publications issued in July 2018. At AAIC 2018 in Chicago, we will be presenting a special commemorative publication for JAD's 20th anniversary that looks back, as well as forward, to the journey that lies ahead for AD research. Readers of this publication will discover the milestones that have led to JAD becoming a vehicle for more papers on AD than any other journal, receiving more citations than any other AD-focused journal.
View the online edition of our special anniversary publication here!
New Book!
This week, another new publication is released in association with JAD's anniversary year – a new book that looks forward to the next 20 years of AD research. The new book Alzheimer's Disease: New Beginnings (AIAD Volume 6) highlights the latest insights in AD research and focuses on the future promise for therapeutic breakthroughs. In compiling this volume of 40+ articles, the editors have utilized a combination of scientometric evaluations to determine the most promising new approaches, as well as soliciting insights from leaders in each of the major areas of AD research. At AAIC, the book will have its official launch. You can read more, and order the book, at: tiny.cc/AIAD!
JAD Celebation Introduced by George Perry
The Editor-in-Chief George Perry, PhD, will also be at AAIC (booth #725) during the conference, ready to share a JAD story or two in honor of the anniversary. You can watch his introduction about JAD's landmark year below, or go here.
If you happen to be in Chicago, another reason to stop by early is to pick up a free JAD 20th anniversary gift – a foldable tote bag with snap closure – while supplies last! IOS Press will also raffle off a free JAD subscription. To enter just drop off your business card at our booth or allow us to scan your delegate pass.
For those not attending AAIC, be sure to follow JAD's social media (Facebook and Twitter) for a chance to win a 20th anniversary bag filled with JAD-related goodies!
JAD is celebrating 20 years: watch the message from the Editor-in-Chief George Perry, PhD, above or read more about the anniversary here!