23 February 2017
Thessaloniki, Greece – Greek researchers demonstrated the potential of a self-administered virtual supermarket cognitive training game for remotely detecting mild cognitive impairment (MCI), without the need for an examiner, among a sample of older adults. MCI patients suffer from cognitive problems and often encounter difficulties in performing complex activities such as financial planning. They are at a high risk for progressing to dementia however early detection of MCI and suitable interventions can stabilize the patients' condition and prevent further decline.
It has been shown that virtual reality game–based applications and especially virtual supermarkets can detect MCI. Past studies have utilized user performance in such applications along with data from standardized neuropsychological tests in order to detect MCI. The team that conducted this study was the first scientific team to achieve reliable MCI detection using a virtual reality game–based application on its own. In that previous study, administration of the virtual super market (VSM) exercise was conducted by an examiner. The present study eliminated the need for an examiner by calculating the average performance of older adults using a special version of the VSM application, the VSM Remote Assessment Routine (VSM-RAR), at home on their own, for a period of one month. It is the first instance where a self-administered virtual reality application was used to detect MCI with a high degree of reliability. The research team included scientists from the Aristotle University of Thessaloniki (AUTH), the Centre for Research and Technology Hellas/Information Technologies Institute (CERTH/ITI), the Greek Association of Alzheimer's Disease and Related Disorders (GAADRD) and the Network Aging Research (NAR) of the University of Heidelberg.
In an article published in the Journal of Alzheimer's Disease, the researchers have indicated that the virtual supermarket remote assessment routine (VSM-RAR) application displayed a correct classification rate (CCR) of 91.8% improving VSM's CCR as assessed in the previous VSM study while achieving a level of diagnostic accuracy similar to the most accurate standardized neuropsychological tests, which are considered the gold standard for MCI detection.
Caption: The VSM virtual environment (screenshot from the English version of the application)
Self-administered computerized cognitive training exercises/games are gaining popularity among older adults as an easy and enjoyable means of maintaining cognitive health. Such applications are especially popular among older adults who consider themselves healthy and are not inclined to visit specialized memory clinics for cognitive assessment. If self-administered games and exercises could also detect cognitive disorders, initial cognitive screening could be conducted remotely. The wide implementation of this method of remote screening would facilitate the detection of cognitive impairment at the MCI stage thus allowing for more efficient therapeutic interventions.
This preliminary study indicates that automated, remote MCI screening is feasible. This method could be utilized to screen the majority of the older adult population, as it dramatically lowers examination-related costs. The social and economic benefits, especially caregiver and healthcare service burden, of the early detection of cognitive disorders could be enormous. At the same time, as older adults are becoming increasingly computer savvy, it is important to create software that meets their needs and allows them to remain healthy and active. Out team continues its research on the VSM with the aim of improving its usability, shortening its administration time and supplementing the science behind VSM with additional data.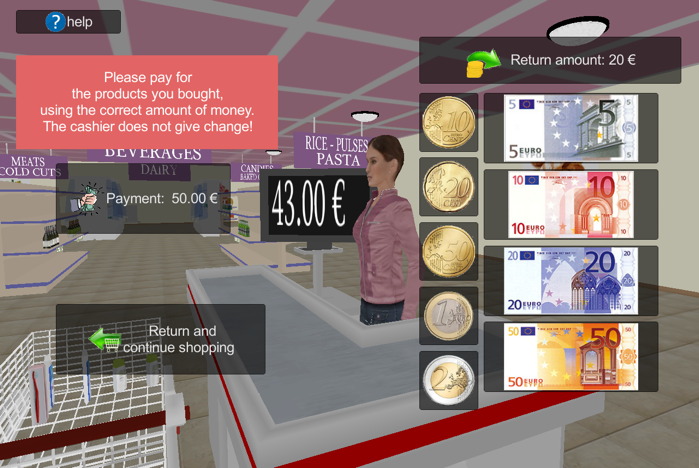 Caption: The VSM payment screen (screenshot from the English version of the application)
# # #
Contact
Stelios Zygouris
Research Psychologist, PhD candidate
Aristotle University of Thessaloniki/ Network Aging Research
+30 6948 727 919
szygouris@gmail.com
NOTES FOR EDITORS
"A Preliminary Study on the Feasibility of Using a Virtual Reality Cognitive Training Application for Remote Detection of Mild Cognitive Impairment" by Stelios Zygouris, Dimitrios Giakoumis, Konstantinos Votis, Stefanos Doumpoulakis, Konstantinos Ntovas, Sofia Segkouli, Charalampos Karagiannidis, Dimitrios Tzovaras, and Magda Tsolaki, DOI: 10.3233/JAD-160518, Journal of Alzheimer's Disease, vol. 56, no. 2, pp. 619-627, 2017.
About the Aristotle University of Thessaloniki (AUTH)
The Aristotle University of Thessaloniki (http://www.auth.gr) is the largest university in Greece. It comprises 7 faculties that consist of 33 schools, 5 faculties that consist of one school each, as well as 4 independent schools. About 81,500 students study at the Aristotle University (72,140 in undergraduate programs and 8,360 in postgraduate programs). There are 2,150 faculty members: 739 professors, 435 associate professors, 634 assistant professors, and 342 lecturers. There are also 11 teaching assistants, 58 research fellows, 248 members of the Special Laboratory Teaching Personnel (S.L.T.P.), as well as 15 foreign language teachers and 4 foreign instructors. Faculty members are also assisted by 213 members of the Special Technical Laboratory Personnel (S.T.L.P.).
The Aristotle University of Thessaloniki conducts research projects, participates in European research programs, cooperates with international institutions and organizations and attracts outstanding researchers from within Greece and abroad. The Aristotle University supports research projects in a wide variety of disciplines related to the environment (natural and built), computing, new technologies and nanotechnology, telecommunications, industrial technologies, transport, biotechnology, biomedicine and health, agriculture, forestry and fishery, education and language, history and archaeology, social studies and economics.
About the Information Technologies Institute (ITI)
The Information Technologies Institute (http://www.iti.gr), formerly Informatics and Telematics Institute, was established in 1998 in Thessaloniki as a non-profit research organization under the auspices of the General Secretariat of Research and Technology (GSRT) of the Greek Ministry of Development. Since 10.3.2000, it is a founding member of the Centre for Research and Technology Hellas (CERTH) also supervised by the General Secretariat for Research and Technology (GSRT). CERTH/ITI is one of the leading Institutions of Greece in the fields of Informatics, Telematics and Telecommunications, with long experience in numerous European and national R&D projects.
The main objective of the Institute is to be a research institution of excellence, identifying promising fields for the future and creating an environment that will allow the transfer of basic, applied and technological research in the growth of the digital economy of the 21st century. CERTH/ITI has developed spheres of excellence and critical mass in research and technology in several strategically important fields in a number of areas such as Human Computer Interaction, Virtual and Augmented Reality, Image and Signal Processing, Computer Vision, Artificial Intelligence.
About the Greek Association of Alzheimer's Disease and Related Disorders (GAADRD)
The Greek Association of Alzheimer's Disease and Related Disorders (http://www.alzheimer-hellas.gr) is a non-profit organization that was founded in 1995 by relatives of patients suffering from Alzheimer's disease, doctors of all specialties (mainly neurologists and psychiatrists) and other experts (such as psychologists, social workers, physiotherapists, etc.) who deal with the problems caused by this disease and other types of dementia. The Association operates 2 day centers in Thessaloniki and has over 4.000 members. It is a member of Alzheimer Europe and Alzheimer's Disease International (ADI) and has successfully participated in various national and European research projects producing new scientific knowledge and innovative interventions for cognitive disorders.
The aim of the Association is to offer information and advice concerning the care of patients with cognitive disorders and provide services for patients and their families. It also strives to offer help and support to caregivers in order to reduce the social, economic and emotional burden deriving from the long term care of people suffering from dementia. Lastly, the Association attempts to publicize the social needs of the affected population and inform the public on issues related to dementia and cognitive disorders in general.
About the Network Aging Research (NAR) of the University of Heidelberg
At the Network Aging Research (NAR) of the Heidelberg University (http://www.nar.uni-heidelberg.de/index.html), humanists, natural and medical scientists are investigating different aspects of aging, since aging affects humans in its entirety. The NAR is a virtual Institute of the University of Heidelberg. All of the cooperation partners of the NAR including the German Cancer Research Center, the Heidelberg University Medical Center, University of Manheim, and the Central Institute of Mental Health Mannheim are distinguished researchers with high competence in their fields.
The Network Aging Research was established in 2006. The partnership of the NAR was already expanded with new members since its foundation and it is aiming to include as many different research areas as possible to complete the interdisciplinary aspect of the Network and offer the public the best available advice and information.
Presently, the NAR offers two graduate programs, thus promoting the next generation of researchers. In the NAR Kolleg Graduate Program, funded by the Klaus Tschira Foundation, a total of six doctoral students are jointly conducting research – with regard to the new technologies – on the impact of living conditions such as physical activity and bilingualism that can help reduce the limitations of old age. In February 2016, the NAR initiated a further graduate program in cooperation with the Robert Bosch Foundation. The key issues addressed by the graduate program "People with Dementia in the Acute-care Hospitals" include the optimization of medical and nursing care as well as the promotion of life quality for dementia patients and their relatives.
About the Journal of Alzheimer's Disease (JAD)
The Journal of Alzheimer's Disease (http://www.j-alz.com) is an international multidisciplinary journal to facilitate progress in understanding the etiology, pathogenesis, epidemiology, genetics, behavior, treatment and psychology of Alzheimer's disease. The journal publishes research reports, reviews, short communications, book reviews, and letters-to-the-editor. Groundbreaking research that has appeared in the journal includes novel therapeutic targets, mechanisms of disease and clinical trial outcomes. The Journal of Alzheimer's Disease has an Impact Factor of 3.612 according to Thomson Reuters' 2013 Journal Citation Reports. It is ranked #22 on the Index Copernicus Top 100 Journal List. The Journal is published by IOS Press (www.iospress.com).