26 February 2021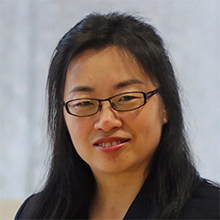 Phoenix, AZ, USA – Promising new research shows aerobic exercise may help slow memory loss for older adults living with Alzheimer's dementia. ASU Edson College of Nursing and Health Innovation Professor Fang Yu led a pilot randomized control trial that included 96 older adults living with mild to moderate Alzheimer's dementia. Participants were randomized to either a cycling (stationary bike) or stretching intervention for six months.
Using the Alzheimer's Disease Assessment Scale-Cognition (ADAS-Cog) to assess cognition, the results of the trial were substantial. The six-month change in ADAS-Cog was 1.0±4.6 (cycling) and 0.1±4.1 (stretching), which were both significantly less than the expected 3.2±6.3-point increase observed naturally with disease progression.
"Our primary finding indicates that a six-month aerobic exercise intervention significantly reduced cognitive decline in comparison to the natural course of changes for Alzheimer's dementia. However, we didn't find a superior effect of aerobic exercise to stretching, which is likely due to the pilot nature of our trial. We don't have the statistical power to detect between-group differences, there was substantial social interaction effect in the stretching group, and many stretching participants did aerobic exercise on their own," Professor Yu said.
The findings are described in a recently published article, Cognitive Effects of Aerobic Exercise in Alzheimer's Disease: A Pilot Randomized Controlled Trial, in the Journal of Alzheimer's Disease.
Professor Yu says their results are encouraging and support the clinical relevance of promoting aerobic exercise in individuals with Alzheimer's dementia to maintain cognition. "Aerobic exercise has a low profile of adverse events in older adults with Alzheimer's dementia as demonstrated by our trial," he comments. "Regardless of its effect on cognition, the current collective evidence on its benefits supports the use of aerobic exercise as an additional therapy for Alzheimer's disease."
The paper's coauthors include David Vock and Lin Zhang, University of Minnesota Division of Biostatistics, Minneapolis; Dereck Salisbury and Jean Wyman, University of Minnesota School of Nursing, Minneapolis; Nathaniel Nelson, University of Saint Thomas, Saint Paul; Lisa Chow and Maurice Dysken, University of Minnesota School of Medicine, Minneapolis; Glenn Smith, University of Florida, Gainesville; and Terry Barclay, HealthPartners Center for Memory and Aging, Saint Paul, MN.
###
NOTES FOR EDITORS: 
Full open access study: "Cognitive Effects of Aerobic Exercise in Alzheimer's Disease: A Pilot Randomized Controlled Trial" by Fang Yu, David M. Vock, Lin Zhang, Dereck Salisbury, Nathaniel W. Nelson, Lisa S. Chow, Glenn Smith, Terry R. Barclay, Maurice Dysken, and Jean F. Wyman (DOI: 10.3233/JAD-201100), published online in the Journal of Alzheimer's Disease in advance of Volume 80, Issue 1 (March 2021) published by IOS Press. The article is freely available at: content.iospress.com/articles/journal-of-alzheimers-disease/jad201100.
The study was supported by the National Institutes of Health. 
Contact
To request an interview with the author, please contact: Amanda Goodman, Media Relations Officer, ASU Edson College of Nursing and Health Innovation (amanda.goodman@asu.edu or +1 6024960983). For further information please contact Diana Murray, IOS Press (+1 7186405678 or d.murray@iospress.com).
About the Journal of Alzheimer's Disease
Now in its 24th year of publication, the Journal of Alzheimer's Disease (JAD) is an international multidisciplinary journal to facilitate progress in understanding the etiology, pathogenesis, epidemiology, genetics, behavior, treatment, and psychology of Alzheimer's disease. The journal publishes research reports, reviews, short communications, book reviews, and letters-to-the-editor. Groundbreaking research that has appeared in the journal includes novel therapeutic targets, mechanisms of disease, and clinical trial outcomes. JAD has a Journal Impact Factor of 3.909 according to Journal Citation Reports (Clarivate, 2020). The journal is published by IOS Press. j-alz.com
About IOS Press
IOS Press is headquartered in Amsterdam with satellite offices in the USA, Germany, India and China and serves the information needs of scientific and medical communities worldwide. IOS Press now publishes more than 90 international peer-reviewed journals and about 70 book titles each year on subjects ranging from computer science, artificial intelligence, and engineering to medicine, neuroscience, and cancer research. iospress.com