29 June 2023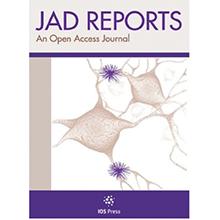 Amsterdam, NL – The Journal of Alzheimer's Disease Reports (JAD Reports) and its publisher IOS Press are proud to announce that JAD Reports has received its first impact factor of 3.2 according to Clarivate's 2023 edition of the Web of Science Journal Citation Reports™ (Emerging Sources Citation Index). This represents an impressive first number for this quality open access publication.
The annual JCR release enables the research and library communities to evaluate the world's high-quality academic journals using a range of journal citation indicators, descriptive data and visualizations.
Editor-in-Chief George Perry, PhD, commented: "I am extremely pleased to have quantitative evidence of the high regard in which JAD Reports has been held by researchers and clinicians in the global AD community since its launch in 2017. It is our ongoing commitment to provide an open source for the publication of quality Alzheimer's disease research content, accessible to all readership. The dedication of the editorial board, contributing authors, referees and our publisher, IOS Press, have certainly contributed to the continuing growth and success of the journal."
In addition to coverage in Web of Science, JAD Reports is included in PubMed Central, Scopus, and the Directory of Open Access Journals (DOAJ), among other prominent abstracting and indexing services.
The Journal of Alzheimer's Disease Reports is an open access international multidisciplinary journal to facilitate progress in understanding the etiology, pathogenesis, epidemiology, genetics, behavior, treatment, and psychology of Alzheimer's disease. It is published alongside the well-respected Journal of Alzheimer's Disease (JAD) as its full open access sister-publication.