30 July 2013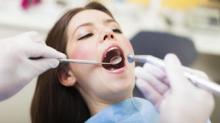 Major international research unveiled by UCLan: People with poor oral hygiene or gum disease may be at a greater risk of developing Alzheimer's disease, a new study led by The University of Central Lancashire (UCLan) School of Medicine and Dentistry suggests.
The research, which has received international collaboration, and led by Professor Stjohn Crean and Dr Sim Singhrao from UCLan, examined brain samples donated by ten patients without dementia and ten patients suffering from dementia. The research demonstrated the presence of products from Porphyromonas gingivalis in brains from patients suffering from dementia.
This bacterium is commonly associated with chronic periodontal (gum) disease. These bacteria enter the bloodstream through daily activities such as eating, chewing, tooth brushing but especially following invasive dental treatment, and from there, potentially enter the brain on a regular basis. The researchers propose that every time they reach the brain, the bacteria may trigger immune system responses by already primed brains cells, causing them to release more chemicals that kill neurons. This could be one mechanism that leads to changes in the brain, which is typical of Alzheimer's disease, and could be responsible for causing symptoms such as confusion and deteriorating memory.
The research benefited from donated brain samples, provided by Brains for Dementia Research, a brain donation scheme supported by Alzheimer's Research UK and Alzheimer's Society. Finding P. gingivalis in the brains from dementia sufferers compared to those without dementia is significant as its presence in Alzheimer's diseased brains has not been documented previously and at the same time adds to a growing body of evidence that suggests an association between poor oral health and dementia.
These published research findings from human brain specimens are further supported by recent (as yet unpublished) research from the same group, on periodontal disease, using animal models, which has been carried out in collaboration with the University of Florida. This animal work has confirmed that P. gingivalis in the mouth finds its way to the brain once the periodontal disease becomes established.
Professor Stjohn Crean, Dean, School of Medicine & Dentistry said:
"Whereas previous studies have indicated a link between dementia and other bacteria and viruses such as the Herpes simplex virus type I, this new research indicates a possible association between gum disease and individuals who may be susceptible to developing Alzheimer's disease, if exposed to the appropriate trigger! Research currently underway at UCLan is playing an active role in exploring this link, but it remains to be proven whether poor dental hygiene can lead to dementia in healthy people, which obviously could have significant implications for the population as a whole. It is also likely that these bacteria could make the existing disease condition worse."
Dr. Sim K. Singhrao, Senior Research Fellow at UCLan said: "We are working on the theory that when the brain is repeatedly exposed to bacteria and/or their debris from our gums, subsequent immune responses may lead to nerve cell death and possibly memory loss. Thus, continued visits to dental hygiene professionals throughout one's life may be more important than currently envisaged with inferences for health outside of the mouth only. To help us prove our hypothesis we are hoping to use the Brains for Dementia Research tissue resource to examine brain tissue from people with both intact and compromised memory who have relevant dental records. The future of the research aims to discover if P. gingivalis can be used as a marker, via a simple blood test, to predict the development of Alzheimer disease in at risk patients."
Notes to editors:

The University of Central Lancashire (UCLan), with Professor Lakshmyya Kesavalu who specialises in animal models of periodontal disease (Department of Periodontology and Oral Biology, College of Dentistry, University of Florida, USA).
The University of Central Lancashire (UCLan) has developed an enviable reputation as an institution that innovates, evolving its course portfolio to over 500 undergraduate programmes and 180 postgraduate courses. The University has an established research reputation within the areas of Business, Health, Humanities and Science. In the recent Research Assessment Exercise, all 17 subject areas submitted were rated as containing research of international excellence while 11 areas were assessed to be undertaking research which is world-leading. With approximately 32,000 students, the University indirectly contributes close to £250 million into the regional economy every year. UCLan is currently in the process of spending more than £120 million on new buildings and facilities to support teaching, learning and leisure activities.
Brains for Dementia Research is a partnership between the Alzheimer's Research UK and Alzheimer's Society to promote brain donation and develop a network of brain tissue banks in England and Wales for dementia research. The project is being run in association with the Medical Research Council. The Brains for Dementia Research coordinating centre is based at King's College London and there are six assessment and donation centres based at the Universities of Cardiff, London, Manchester, Newcastle, Oxford and Bristol.
For more information contact:

Natasha Gandhi

PR Officer - University of Central Lancashire

T: 0207 067 0295

E: ngandhi@webershandwick.com

Determining the Presence of Periodontopathic Virulence Factors in Short-Term Postmortem Alzheimer's Disease Brain Tissue. Poole S, Singhrao SK, Kesavalu L, Curtis MA, Crean SJ. Journal of Alzheimer's Disease, 2013, DOI: 10.3233/JAD-121918. Published by IOS Press.