14 September 2016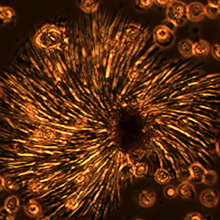 A new study led by Laurent Meijer, at ManRos Therapeutics, and collaborators shows that some herbicides (triazines) trigger enhanced in vitro production of the Aβ42 over Aβ40 amyloid peptides in various cell lines. This suggests that some products from the 'human chemical exposome' (HCE) (estimated to be over 85,000 products) may contribute to the increased production of Aβ42 over Aβ40 characteristic of Alzheimer's disease (AD). In addition, some of these products might be turned into pharmacological tools to develop a chemically-induced animal model of AD (in contrast with the currently used genetic, recombinant mice models). Publication of these findings is scheduled in the Journal of Alzheimer's Disease, vol. 54(4) issue. This work is now continuing with special focus on (1) Persistent Organic Pollutants (POPs) and (2) defining conditions under which such products could trigger in vivo Aβ42 production in mice.
Identifying products able to induce Aβ42 production may be a key to understand some of the initiating causes of sporadic AD and to generate non-recombinant, chemically-induced AD animal models. A cell model was used to screen HCE libraries for Aβ42 inducers. Out of 3500+ compounds tested, six triazine herbicides were found that induced a β- and γ-secretases -dependent, 2-10 fold increase in the production of extracellular Aβ42 in various cell lines, primary neuronal cells and neurons differentiated from human induced pluripotent stem cells (iPSCs from a healthy or a familial AD patient (APP K724N)). Immunoprecipitation/mass spectrometry analyses show enhanced production of Aβ peptides cleaved at positions 42/43, and reduced production of peptides cleaved at positions 38 and lower, a characteristic of AD. Triazines also shifted the cleavage pattern of alcadeinα, another γ-secretase substrate, suggesting a direct effect of triazines on γ-secretase activity. In conclusion, several widely used triazines enhance the production of toxic, aggregation prone Aβ42/Aβ43 amyloids, suggesting the possible existence of environmental "Alzheimerogens" (by analogy with carcinogens) which may contribute to the initiation and propagation of the amyloidogenic process in late-onset AD.
Portelius E, Durieu E, Bodin M, Cam M, Pannee J, Leuxe C, Mabondzo A, Oumata N, Galons H, Lee JY, Chang YT, Stϋber K, Koch P, Fontaine G, Potier MC, Manousopoulou A, Garbis S, Covaci A, Van Dam D De Deyn P, Karg F, Flajolet M, Omori C, Hata S, Suzuki T, Blennow K, Zetterberg H, Meijer L (2016) Specific triazine herbicides induce amyloid-β42 production. J Alzheimers Dis, doi: 10.3233/JAD-160310.
Contact
Laurent Meijer
Location: Roscoff, France
Telephone: 011.33.2.98.72.94.92
Email: meijer@manros-therapeutics.com
About ManRos Therapeutics
Founded in 2007 in Roscoff (Brittany, France), ManRos Therapeutics is a spin-off biotech company initiated from a CNRS lab (http://www.manros-therapeutics.com/). It aims at optimizing, characterizing and bringing pharmacological inhibitors of disease relevant protein kinases towards clinical trials against cystic fibrosis, polycystic kidney disease and Down syndrome/Alzheimer's disease. Research programs are based on low molecular weight synthetic molecules, often derived from natural products, which target specific essential protein kinases which are deregulated in these pathologies. Development of new animal models of human disease is also one of the objectives of ManRos.
About the Journal of Alzheimer's Disease (JAD)
The Journal of Alzheimer's Disease (http://www.j-alz.com) is an international multidisciplinary journal to facilitate progress in understanding the etiology, pathogenesis, epidemiology, genetics, behavior, treatment and psychology of Alzheimer's disease. The journal publishes research reports, reviews, short communications, book reviews, and letters-to-the-editor. Groundbreaking research that has appeared in the journal includes novel therapeutic targets, mechanisms of disease and clinical trial outcomes. The Journal of Alzheimer's Disease has an Impact Factor of 4.151 according to Thomson Reuters' 2014 Journal Citation Reports. The Journal is published by IOS Press (www.iospress.com).